Mastering The Bandsaw – Michael Fortune
Mar 26, 2022 | 9:00-4:00
$250.00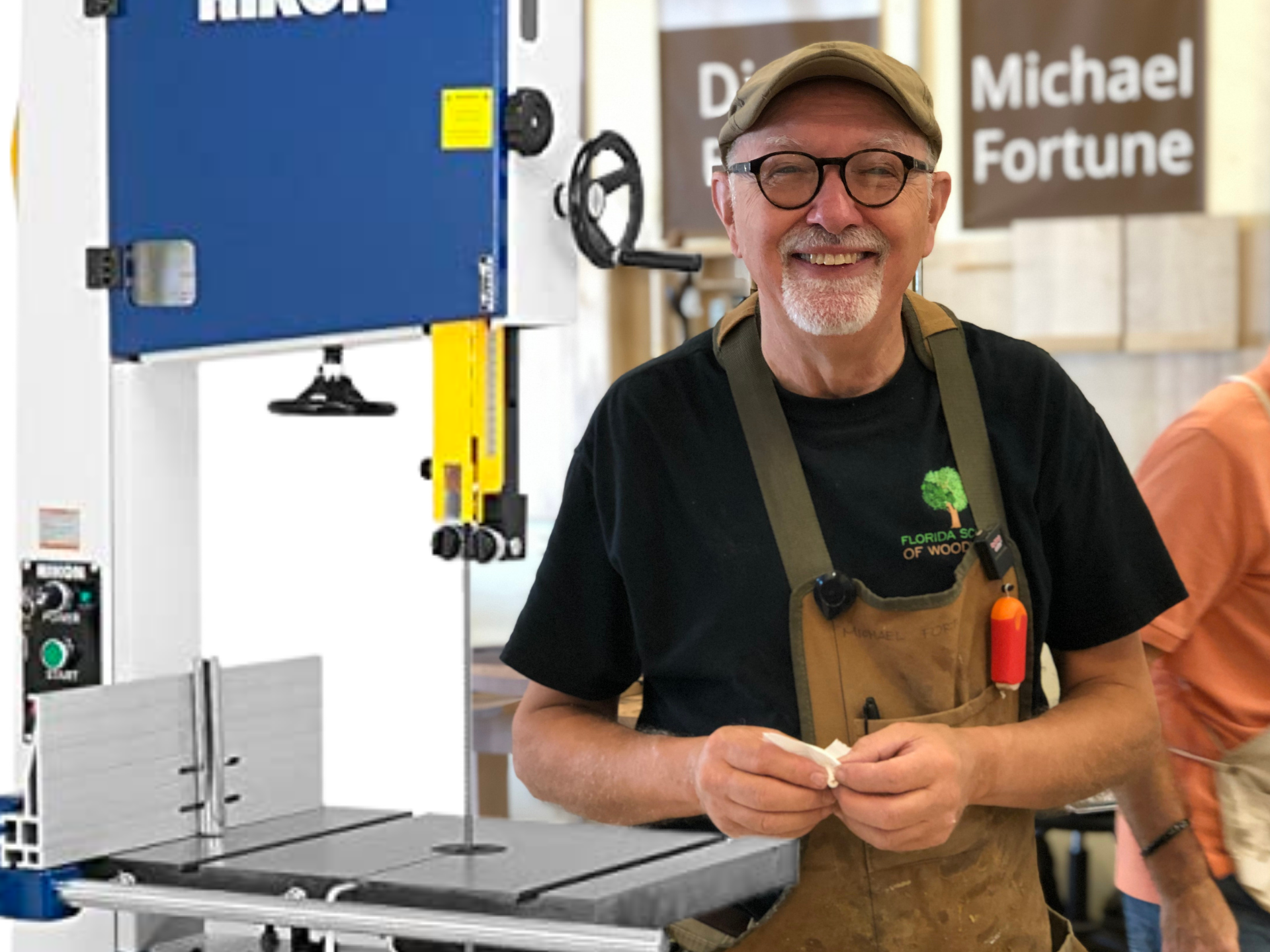 Mastering The Bandsaw
A properly-tuned band saw can — and perhaps should — be the centre of an efficient woodshop.
Bandsaws are capable of very accurate work, from cutting precise tenon joints to resawing the densest woods straight and smooth to cutting fluid curved shapes. Even an inexpensive bandsaw can be tuned to give excellent results.
This class will show you how to adjust and manage your band saw for optimum results.
You will learn:
How to mount the blade
How to set the blade tension
How to tune the bandsaw to make perfect cuts
Correct sawing and resawing techniques
How to eliminate "drift"
Blade selection
Making joinery on the band saw

Learn how to cut freehand accurately to any curved or straight line

See how to make a collection of simple jigs that will make the bandsaw even more versatile and accurate
Tools required: All tools and materials supplied by the school.
Materials:  Provided
Fees: 
Tuition: $250 per person (lunch included)
One time Registration Fee: $45
Details
Date:

Mar 26, 2022

Time:

9:00 am - 4:00 pm

Cost:

$250.00

Event Categories:

1 Day, 2022 Classes, All, Beginning Woodworking, Evening & Weekend, Furniture Making, In Person, Level I, Weekend

Event Tags:

best wood router, carbide router bits, edge profiling, feed direction, fine woodworking tools, fixed routers, florida woodworking, freud router bits, furniture, furniture making, furniture making skills, gifts for woodworkers, great cut quality, great instructors, hands on experience, high speed steel router bits, how to cut dados, how to cut lap joints, how to cut mortises on a router, how to cut rabbets, how to cut with a router, how to do joinery, how to maintain a router, how to use a router, how to use machinery, joinery #, learn new skills, machinery, mortises, multiple passes on a router, plunge routers, Power Tools, router bits, router motor, router safety, router table, router techniques, router tool bits, routing, routing fundamentals, routing tips, trim router, types of routers, types of wood router tools, useful router bits, using featherboards, using push pads, veneer, weekend, Wood router, wood working, Woodworking, woodworking education, woodworking projects, woodworking school, woodworking skills, woodworking tools