Chair Making | Chris Schwarz
February 17 - February 21 | 9:00 am - 4:00 pm
$825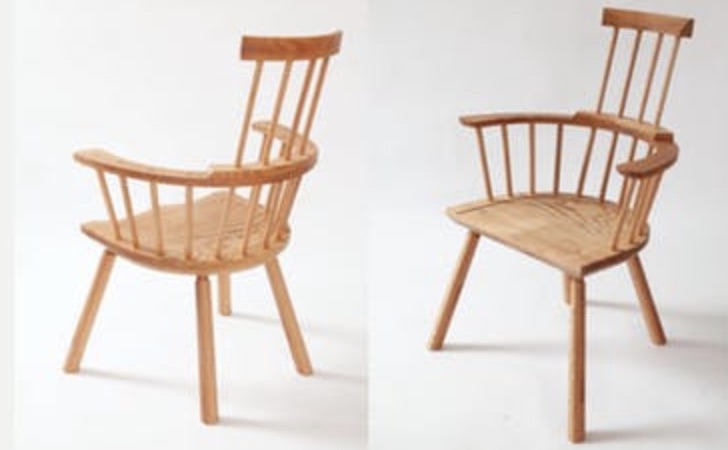 Build a comfortable stick armchair in the Welsh tradition using tools and materials that are familiar to the typical woodworker.
If chairmaking intimidates you, you aren't alone. The tools, materials, and processes seem to require a pledge of allegiance to an entirely different craft that uses greenwood, shavehorses and steam boxes. It doesn't have to be that way.
With a bit of cleverness and (mostly) standard woodworking tools, you can build an extremely comfortable stick armchair using woods from your local lumberyard (or even your scrap bin) and tools already in your shop.
For the last two decades, Chris Schwarz has dedicated himself to learning all modes of chairmaking, from building them with green wood and traditional tools to making chairs with routers, high-tech compression wood, and complex jigs. The chair for this class uses a mix of tools that you probably already own (plus a few new ones), wood that you have in your scrap bin and skills you have already honed.
If you can reliably sharpen your hand tools, saw to a line and hold a cordless drill then you can build this chair.
The form is inspired by historic examples of 18th- and 19th-century stick chairs from Wales that have been refined by John Brown and Christopher Williams – two of my favorite chairmakers. I designed my version starting with an 18th-century chair shown in a book by Richard Bebb. And I stripped it back to what you see here – a comfortable chair with clean lines.
Materials & Books Needed:
Materials: Provided by School
Tools:  CLICK HERE
Please note there is a discount form for Lee Valley tools at the bottom of the tool list should you need it.
Fees:
Tuition: $760 per person
Studio & Materials Fee: $65
One time registration fee of $45
SOLD OUT   – Please check out our next Chair Making class
Details
Start:

February 17 @ 9:00 am

End:

February 21 @ 4:00 pm

Cost:

$825

Event Categories:

2020 Classes, All, Beginning Woodworking, Chair making, Furniture Making, handtool, Level I, Level II, Level III, Project Based

Event Tags:

18th century chairs, american furniture, Beginning, chair, chair joinery, chair making, chairmaking, chisel, chris schwarz, christopher williams, combination squares, comfortable stick armchair, cut joints, cut wood accurately, furniture, furniture making, greenwood, hand planer, Hand planing lumber, Hand Tools, handsaw, handtools, john brown, joinery #, joinery class, joint selection, lap joints, layout skills, learn, lost art press, machine based methods, marking gauges, mitres, Mortise and tenons, planer, rabbets, richard bebb, saw, select joints, sharpening chisels, sharpening hand planes, shavehorses, shooting board, skill-based class, steam boxes, Table Joinery, through dovetails, typical woodworker, welsh staked, welsh tradition, wood behavior, Woodworking, woodworking classes, woodworking projects