Chisel Box & Marquetry – Weekend
January 11 - January 12 | 9:00 am - 5:00 pm
$600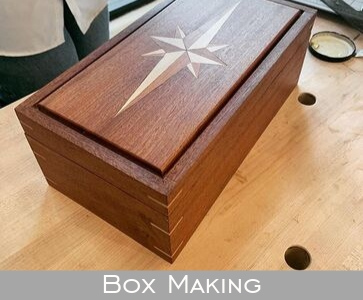 Make a Chisel Storage Box Plus Marquetry
Weekend Class – Open to All
Build your skills and store your tools!  Chisels present a special challenge, their sharp edges can inflict damage as well as suffer it, so if your chisels are rattling around in a drawer, or still in flimsy original packaging, consider making a box to protect and organize them for easy retrieval.
This class consists two weekends (Jan 11-12th AND Feb 29th – March 1st) that will help you to grow your hand tool and machine skills as well as creating a practical storage box for your chisels that will last you a lifetime.  You will also get to learn how to inlay the box lid with a compass rose design.
Marquetery is the process of making pictures from small pieces of veneer and insetting them into a larger, thicker piece of material such as a box lid, cabinet door, or table top. Marquetry has been used for centuries to add decorative details to many types of furniture and even used as a dedicated media for purely artistic works.  You'll often find marquetry and particularly the compass rose in Federal style furniture.
The compass rose is an iconic design with 8 points it has a striking geometric design that looks complex but it is a very straightforward pattern to make that is a great starting project as the alternating dark/light pattern helps hide minor flaws.   You will need some basic tools and we will teach you to do each step is an easy paced class.
You'll learn and practice box making techniques that include:
Box design considerations
Carcass construction using resawn lumber
Mitres & splined mitre joints
Setting hinges and hardware.
Marquetry

How to design and draw a compass rose to use as a blueprint.
How to cut veneer inlay
How to make the matching cavity in a solid piece of wood using both hand and power tools
The goal is to complete your pieces, aside from finishing. An oil wax finish is available.
Meet Your Instructor:  Andrew Gibson
Tools Needed: Provided by the School
Materials:  Provided by the School
Fees:
Tuition:  $560 (covers both classes)
Studio & Materials Fee: $40
Non-Refundable Registration Fee:  $45 if this is your first time registering
Details
Start:

January 11 @ 9:00 am

End:

January 12 @ 5:00 pm

Cost:

$600

Event Categories:

Event Tags:

Beginning, beginning woodworking class, beginning woodworking course, box making, cabinet making class, chisel storage, classes in florida, drawer making, dyi, Evening, federal style, fine woodworking, hinge setting, inlay, jewelry box, joinery #, making a wooden box, marquetry, mitre joints, Odie's Oil, period furniture, queen anne, resawing, sapfm, tool box, tool storage, tool store, weekend, weekend craft