Virtual Event
Intro To Making Shaker Boxes – Live Online
Dec 12, 2020 - Dec 15, 2020 | 10:00 - 12:00
$225.00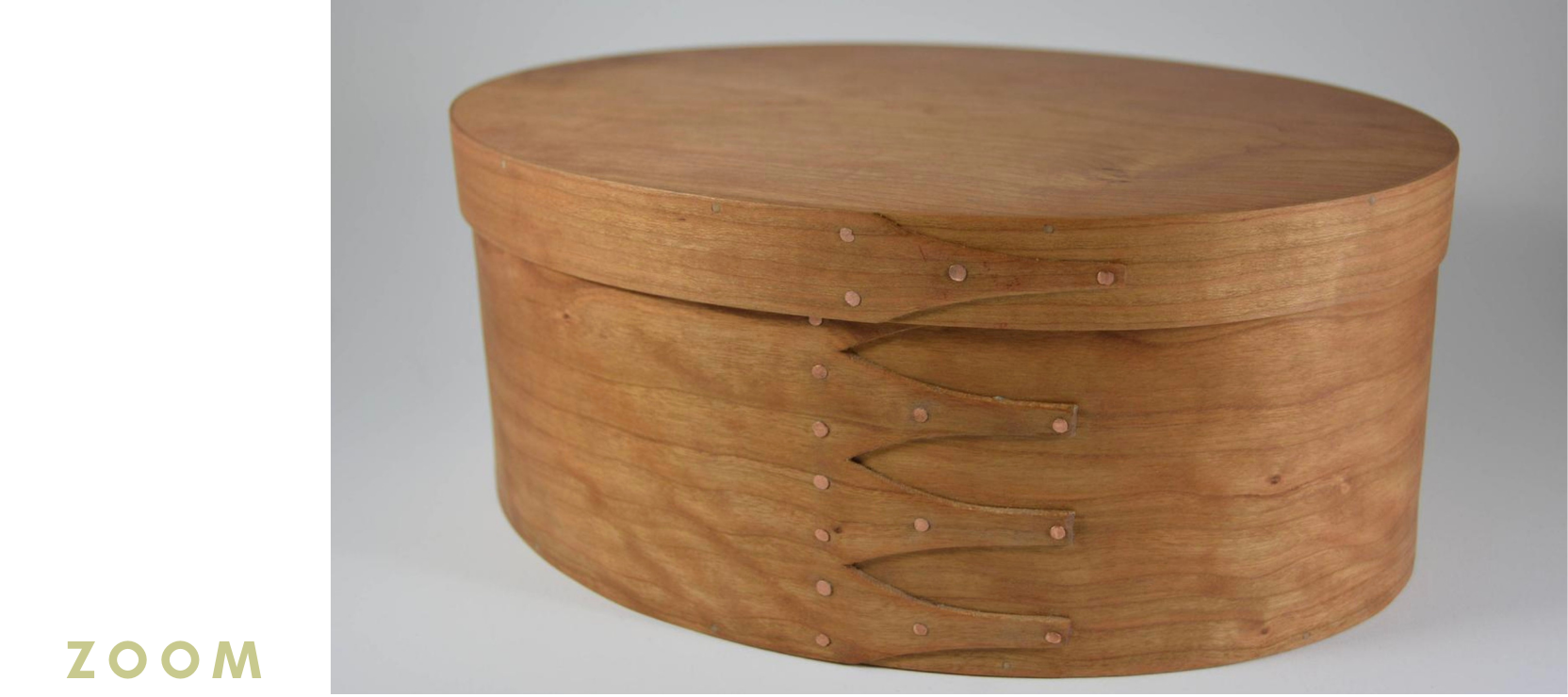 INTRODUCTION TO OVAL SHAKER BOXES
KELLY PARKER
Live & On-Line
These lovely oval boxes crafted from bentwood are made by hand and are associated with Shaker folklife because they express the utility and uniformity that was valued in Shaker culture.
Learn along with other makers as you participate in this live video conference class taught by Kelly Parker while you chat with your classmates from around the nation and world in real-time.  There is a lot of interaction, and you'll get to watch and engage with Kelly as she leads you through the process of making oval shaker boxes using basics tools.  Kelly will be leading this from her workshop in Missouri where she is a master furniture maker.
The class is split into manageable sections of approximately two hours online followed by work periods where you will work at your own pace.
During this course, we will go over the traditional process of shaping the tails, hot water wood bending, and using copper tacks to make a series of boxes.  You will need a very limited number of tools such as a drill and a small hammer (see full list below) and everything else is provided in the kit.  This is a quiet, nonmessy process so you don't need a big workshop or space.
You will learn to:
Bend wood using hot water
Shape the tails into decorative forms
Pin and with decorative copper tacks
Craft the bases and tops to get a clean fit.
This class is open to all levels and is suitable for a wide range of ages.
Resources
We'll have a "Tech Check" call a few days before the start of the class for you to verify your connection and get familiar with Zoom if you need to.
You'll also be invited to join our private Facebook group where you can chat, post questions, and get advice outside of class hours.  Come and join the quarantine team!
Finally, will we record each day, so that you can refer back to it as you work through your assigned tasks and homework.
Class Schedule & Times
The class is broken up into sections over two days. Plan on attending all of them all, just like you would in real-time.
Sat  December 12th, 10:00 am – 12:00 pm EDT
Sun December 13th, 4:30 pm – 6:30 pm EDT
Tues, December 15th, 6:00 – 8pm EST – This is a "run over" in case we don't finish on Sunday.
All times are shown in  Eastern Standard Time (EST)
Tools & Materials Needed: 
Laptop with a camera and wifi access
PDF – TOOL LIST and Set UP
Registration includes Oval Shaker Box kit + Shipping (cherry bands, cores for 3 different sized boxes), shaper and finger patterns, 32″ galvanized tray, tac pack, pipe, sanding block, sandpaper).
Details
Start:

Dec 12, 2020 @ 10:00 am

End:

Dec 15, 2020 @ 12:00 pm

Cost:

$225.00

Event Categories:

2 Day, 2020 Classes, All, Box making, Evening & Weekend, handtool, Level I, Speciality Classes, Virtual Classes, Weekend

Event Tags:

adze, bowl carving, camping skills, carve a spoon, carving, Carving Class, carving project, carving tools, folk art, gifts for woodworkers, green wood, greenwood spoon, greenwood spoons, intermediate woodworking, Jason lonon, kitchen supplies, make a spoon, primitive crafts, primitive woodworking, spoon, spoon art, spoon carving, spoon gouge, spoons, survival skills, traditional craft, use carving tools, wood craft, wood project, wooden spoons