Intro To Turning and Bowl Making
May 3, 2021 - May 7, 2021 | 9:00 - 4:30
$750.00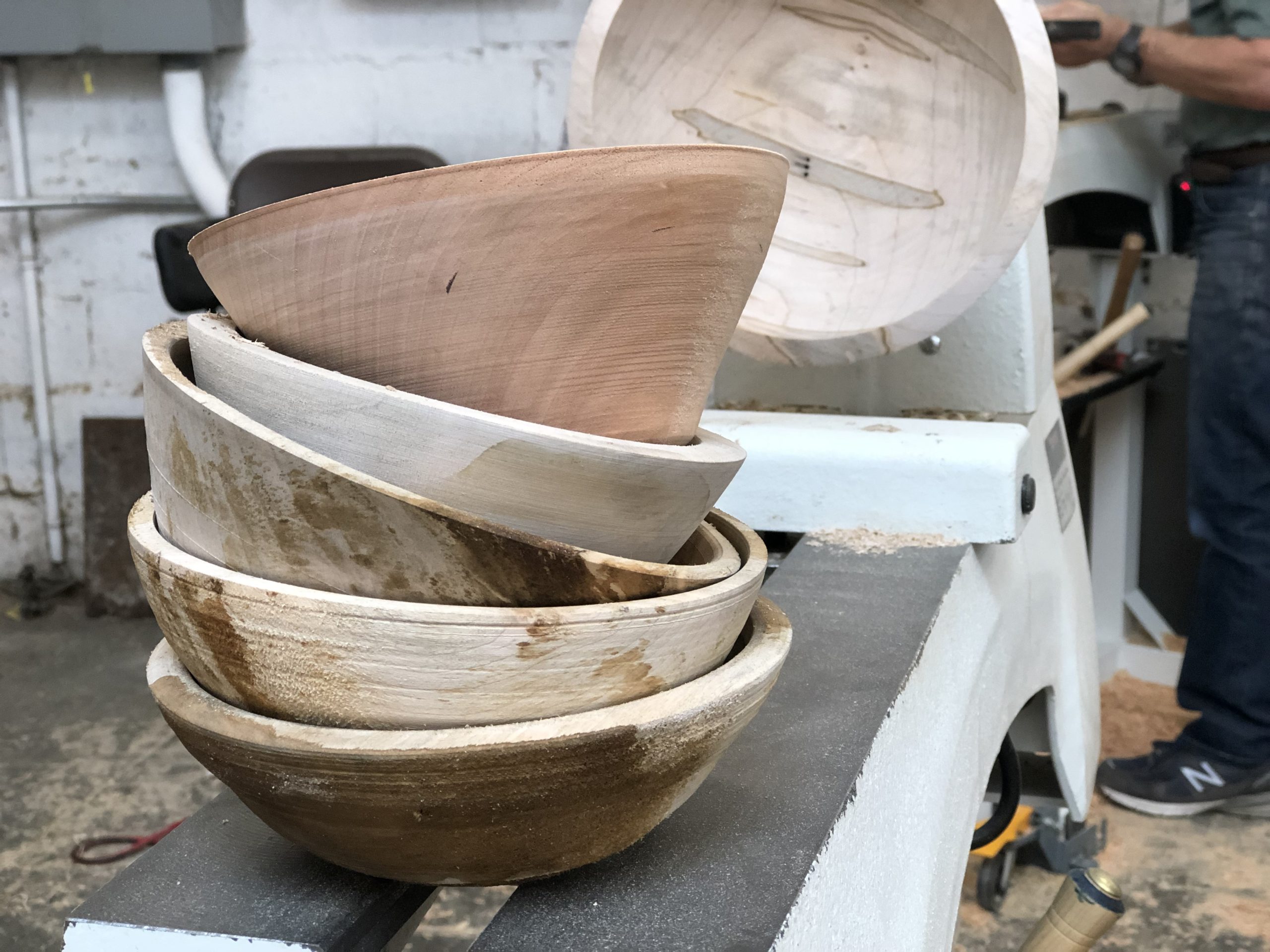 An Intro to Turning & Bowl Making
A wonderful opportunity to learn to turn on a lathe with a great instructor in a comfortably paced class. Open to new turners, as well as those of all skill levels who would like to break bad turning habits and fortify their skill base.
Taught by renowned turner Peggy Schmid you will have a fun week making beautiful bowls as well as skill-building projects such as platters.
This is a hands-on class.  Every student has their own brand new lathe (Jet Midi 1220) with a set of gouges.  Instruction covers everything from wood selection to finishing – so don't worry if this is new to you.
This class is perfect for the beginner who is curious about learning how to use the lathe and is also very good for those who have been turning for a bit and want to add finesse and more technique to their skill base.
Some of the things you will learn about include:
how the wood is cut from the tree
how to cut the blank rounds  and mount wood on to the chuck
Sharpen and use gouges
More importantly, you will make bowls of different sizes and styles such as side grain and end grain.  If time permits, we may be able to touch on various embellishment techniques.
Tools Needed:  If you have turning tools please bring them, if not the School provides a standing set of tools for each student.
Materials & Books Needed: Materials provided
Fees:
Tuition: $700 per person
Studio & Materials Fee:  $50
One time  Registration Fee: $45
Details
Start:

May 3, 2021 @ 9:00 am

End:

May 7, 2021 @ 4:30 pm

Cost:

$750.00

Event Categories:

Event Tags:

aaw, all skill levels, american association, american association of woodturners, basic woodturning, beautiful turned pieces, beginner wood lathe projects, Beginning, bowl fitting, bowl gouges, bowl making, bowl turning, bowl turning basics, bowls, break bad turning habits, Candle sticks, candlestick, Christmas decoration, comfortable pace class, crafts, faceplate turning, finishes, Florida Turning classes, florida woodworking, Flower Vase, flower vases, for beginners, french rolling pin, furniture making skills, gifts for woodturners, gifts for woodworkers, great instructors, hands on experience, headstock, hone your skills, hone your woodturning skills, honey dipper, how to apply finishes, how to make bowls, how to make spindles, how to mount wood on to the chuck, how to set up your lathe, how to sharpen, how to start woodturning, how to use a lathe, how to use a wood lathe for beginners, how to use gouges, jet midi lathe, lathe, lathe basics, lathe bed, lathe handwheel, lathe motor, learn a new hobby, learn new skills, learn sizing, learn the basics of woodturning, new hobby, open to new turners, parting tools, poppet barrel, rolling pin, scrapers, series of projects, set up your lathe, Small bowl, Small plate, spindle, spindle gouges, spindle turning, standard turning tools, strong foundational techniques, tailstock, tampa woodturning, tips for woodturning, tool rest banjo, turn on the lathe, Turning, turning class, turning classes, using a lathe, using a wood lathe, wine stopper, wood lathe, wood lathe projects, wood selection, wood turning, wood turning basics, wood turning chisels, wood turning class, wood turning mistakes, wood turning projects, wood turning tools, wood turning with mahogany, woodturning classes, woodturning for beginners, woodturning for profit, woodturning for your home, woodturning projects, woodturning techniques, woodturning with cherry, woodturning with poplar, Woodworking, woodworking class, woodworking education, woodworking school, xmas gifts