Master The Bend | Garrett Hack
February 11 - February 13 | 9:00 am - 4:00 pm
$550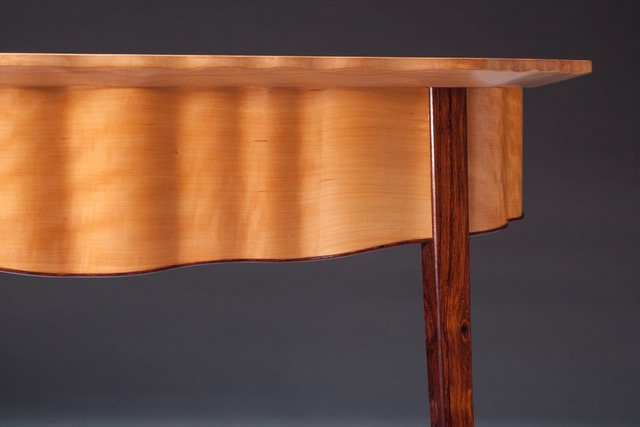 MEET YOUR INSTRUCTOR
GARRETT HACK
WOODWORKING WITH CURVE
As your woodworking skills develop, so does a natural interest in designing beyond the straight and square. Curved shapes can add elegance, allure, and even strength to your furniture designs.
Come and explore and make several different curved parts by:
laminating for curved drawers and chair parts,

shaping out of the solid with hand tools,

coopering (think barrel) for curved panels or case sides,

steam bending.
We will talk about how to generate pleasing curves, draw them full scale (for the joinery later), make quick patterns, bending forms, and laminates.
How do you decide the best technique for producing those curved parts, and then proceed in an efficient and successful way?
We'll go through as many processes as we can, including some interesting hybrids. Your challenge will be to produce some accurate parts and join them together with strong joinery. 
Arrive at the class with some ideas of what curved construction you would like to experiment with —  a curved drawer face, curved table rail, curved parts for a chair, or a coopered curved surface (case or door panel). 
Tools Needed:   TOOL LIST
Materials & Books Needed: None provided by the School
Fees:
Tuition: $500 per person
Studio & Materials Fee:$50
One time registration fee of $45
Details
Start:

February 11 @ 9:00 am

End:

February 13 @ 4:00 pm

Cost:

$550

Event Categories:

2020 Classes, All, Beginning Woodworking, Decorative Arts & Inlay, Furniture Making, handtool, Level I, Level II, Level III, Speciality Classes

Event Tags:

add elegance, bending forms, coopered curved surfaces, coopering case sides, coopering curved panels, curved construction, curved faces, curved lines, curved parts for a chair, curved table rail, different curved parts, furniture making, how to bend wood, how to make pleasing curves, hybrid wood bending methods, laminating for chair parts, laminating for curved drawers, laminations, make patterns, master the bend, shaping curves from solid wood, steam bending, using handtools, wood, wood bending, Woodworking, woodworking skills, woodworking techniques, Woodworking with a curve