Sharpening with a Master – Live Online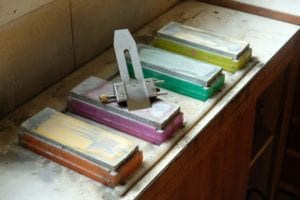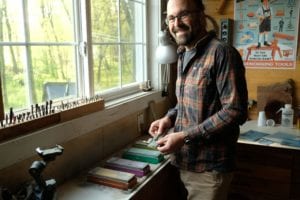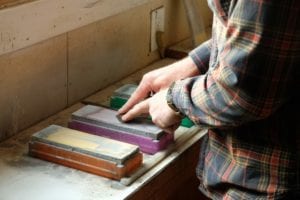 MEET YOUR INSTRUCTOR
JAMEEL ABRAHAM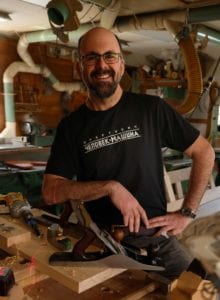 Sharpening with Jameel Abraham
Live & On-Line
This is a comprehensive class on sharpening.  Build confidence and consistency in your technique.
This is the perfect time to learn a new skill from the comfort of your home or workshop. Learn along with other woodworkers as you participate in this live video conference class taught by Jameel Abraham of Benchcrafted and chat with your classmates from around the nation and world in real-time.
There is a lot of interaction, and you'll get to watch and engage with Jameel as he leads you through the process of sharpening from his workshop in Iowa.  It's as close as you can get to sitting at his workbench with him.
The class is split into manageable sections of approximately one and a half hours online followed by work periods where you will work in your own workshop.
Sharpening can be challenging, but in reality, it's quite simple. In this class, we'll focus on starting with a plane iron, taking it all the way from coarse grinding to final honing.
We'll talk about the ideal sharpening setup, equipment, and approach. The skills learned can be applied to chisels and other hand tools.  You'll learn about:
Basic grinder setup and use. 

Grinding technique. 

Sharpening stone selection, setup, and use.

Honing guide selection and use.

Edge evaluation.

Basic plane setup
Gain confidence in your sharpening routine!
Resources 
The class is for all levels of experience and everyone is welcome.
We'll have a "Tech Check" call a few days before the start of the class for you to verify your connection and get familiar with Zoom if you need to.
You'll also be invited to join our private Facebook group where you can chat, post questions, and get advice outside of class hours.  Come and join the quarantine team!
Finally, will we record each day, so that you can refer back to it as you work through your assigned tasks and homework.
Class Schedule & Times
The class is broken up into sections over three days. Plan on attending all of them all, just like you would in real-time.
 Monday, May 25th, Tues 26th, Thurs 28th
·      700pm  – 8:30pm Class/Group Time together via video conference
All times are shown in EST (GMT -5) Eastern Standard Time
Tools & Materials Needed: 
A laptop with a camera and wifi connection

A bench grinder

Sharpening stones (1000, and 8000 grit)

Honing guide

Plane iron

Smoothing plane
Optional – If you like having a good book for more information check out Complete Guide to Sharpening by Leonard Lee and or The Perfect Edge by Ron Hock.
Details
Start:

May 25

End:

May 28

Cost:

$100

Event Categories:

Event Tags:

adze, bowl carving, camping skills, carve a spoon, carving, Carving Class, carving project, carving tools, folk art, gifts for woodworkers, green wood, greenwood spoon, greenwood spoons, intermediate woodworking, Jason lonon, kitchen supplies, make a spoon, primitive crafts, primitive woodworking, spoon, spoon art, spoon carving, spoon gouge, spoons, survival skills, traditional craft, use carving tools, wood craft, wood project, wooden spoons