Sunday Funday | Learn Spoon Carving
June 9 | 11:00 am - 3:00 pm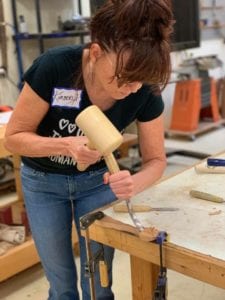 Sunday Funday | Learn Spoon Carving
Spoon carving is a wonderful way to engage in both woodworking, and carving on a small scale.
It is easy to do, productive and fun activity. There is something very satisfying about hand making a utilitarian object.  This is just a fun Sunday class and no experience is necessary just a desire to have a go. You will leave this class with new skills and a lovely wooden spoon you created yourself.
Using traditional tools and a few easy power tools in this wooden spoon carving class, you will learn how to design, carve and hollow out the bowl of the spoon, shape the handle as well as sand and finish the piece. It's a fun class and easy for anyone to learn. The best part is that you get to leave the class with your very own custom creation.
All supplies are included and will go home with you. This workshop is ideal for adults and also appropriate for kids (12+) if accompanied by an adult.
Fees: Tuition $90 per person
Studio & Materials Fee: Included in the price of the class.
weekending forking beginnering woodworkinging sundaying