Turning a Natural Edge Bowl with Peggy Schmid
April 1 - April 5 | 9:00 am - 5:00 pm
Meet Your Instructor
Peg Schmid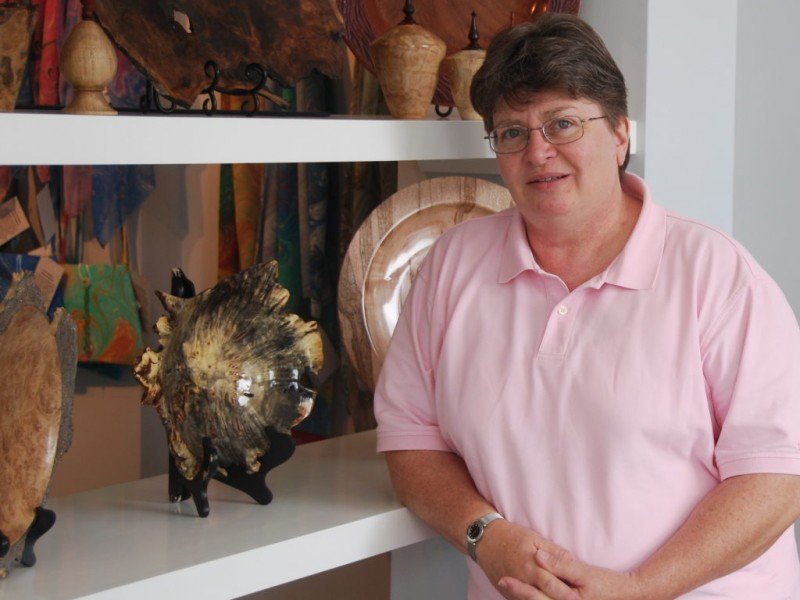 As a sculptor, she produced work for the movie "Freejack", created the Pinwheel Project at Tula Art Foundation in Buckhead, Was a featured artist on the program Artage for the City of Atlanta, and had work featured at ABC No Rio in New York.
Several of her bowls were featured in the HGTV Green Home in  2012.
She has won awards both as an artist, sculptor, and woodturner and her works are in private and corporate collections throughout the country.
Learn To Turn A Natural Edge Bowl or Platter
Come and learn how to turn a slab of a burl into a natural edge platter and a burl cap to turn a bowl.  You will also learn some surface decorations, painting and dye techniques, and carving to enhance the design.
What You Will Learn
The course is divided into two sections – turning and surface enhancement – and you'll leave with a deep knowledge of both.
You will want to have some experience with turning and already be able to turn a basic bowl or platter.
Turning A Burl
Learning to See
One of the hardest parts of doing any art is to learn to step back and look at the piece from more than one angle and in more than one position.  Turning a burls require a keen eye to determine the depth of cuts, since they are often riddled with depressions and bark inclusions.  Learn to look at the wood and make decisions about design that will work with the inclusions and depressions so they become part of the design instead of a hazard.
Turning any burl with an uneven edge is difficult and requires a very delicate touch to not break the odd projections at the outer rim.  You will learn the techniques to keep these intact with respect to the proper presentation of our tools to the spinning edge and the speed at which we run the lathe.
You will learn how to:
Clean and prepare the burl
Mount pieces on the lathe using faceplates & screws
Create tenons
Turn the face and cavities
Sanding techniques
Create a surface edge around the bowl to apply textural elements.
Correct the mistakes that do happen and make repairs that go unnoticed!
Surface Enhancements
This part of the class is designed to help you learn:
Better practices with your tools
Develop the ability to use a critical eye to examine the quality of your work.
Skills carving tools and painting techniques.
The use and reasoning of color applications and why some colors work and others do not.
How to do a metal dry brush application
We will each decide what works best for our pieces with an emphasis on enhancing the color and figure of the natural wood.  Once we have completed the embellishments we will apply a spray finish to stabilize the paint and protect the wood surfaces.
Tools Needed:   CLICK to see TOOL LIST
Please note that Woodcraft Clearwater FL offers a 15% discount to Florida School of Woodwork students.  You may also call the School at 813 223 3490 and arrange to have these tools purchased on your behalf and ready for you on arrival to your class.
In order to help you get the most out of the day the School will provide a light breakfast, and snacks.
Fees: Tuition: $750 per person
Studio & Materials Fee:$50
Registration Fee:  $45 one time
Optional Lunch Plan: $60