Curvature – Bend It Like Gumby
October 26 - October 30 | 9:00 am - 4:00 pm
$855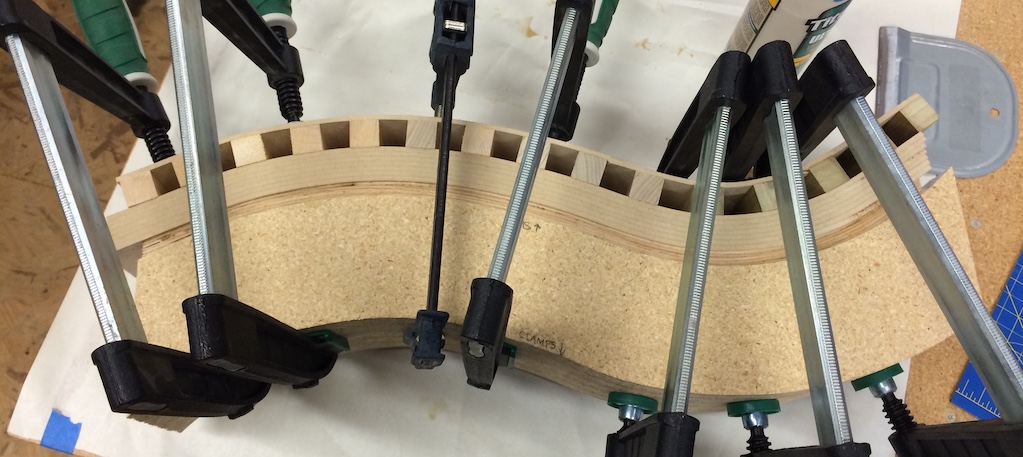 Curvature – Bending Wood
Imagine: the gentle bend of a meandering stream… the supple curve of a woman's hip… the fluid lines of a sports car.  These beautiful organic forms are intrinsically pleasing to us.  You can bring this same graceful quality to your furniture by learning the basics of bending wood.
Steam – Vacuum – Hot Pipe  – Kerf Bending
Join Kelly Parker for a 5-day hands-on adventure as you explore the art and science of bending wood.  We will cover steam bending, laminate bending (both parallel laminates and tapered laminates), hot pipe bending, vacuum forming and kerf bending.  Be prepared to take your work and skills up a notch!
Curved components can be both functional and sculptural.  Some of the applications for bending include stretchers, legs, aprons, musical instruments, boxes, curved casework or curved doors, and pure sculpture.  Incorporating an aesthetically pleasing flow of line allows you to create work that is more sculptural and adds value to your project.
The end goal of this technique-based class isn't a finished piece.  Rather we want to explore a new design vocabulary to enhance our future work.   After all, a straight line is a wasted opportunity!
Topics to be covered:
preparing material to bend
making forms
adhesive selection
clamping strategies
milling curved parts safely
joinery
how to choose the right bending technique for a project
Tools Needed: None needed 
Materials & Books Needed: Provided
Fees: 
Tuition: $775 per person
Studio & Materials Fee: $80
One time registration Fee: $45
Details
Start:

October 26 @ 9:00 am

End:

October 30 @ 4:00 pm

Cost:

$855

Event Categories:

Event Tags:

add elegance, add value to your work, adhesive selection, art of bending, bending forms, bending wood, choosing the right bending technique, clamping strategies, coopered curved surfaces, coopering case sides, coopering curved panels, curved casework, curved components, curved construction, curved doors, curved faces, curved lines, curved parts for a chair, curved table rail, curving wood, different curved parts, enhance your skills, enhance your work, florida woodworking, furniture making, gifts for woodworkers, hot pipe, hot pipe bending, how to make pleasing curves, hybrid wood bending methods, Kelly Parker, kerf, laminate bending, laminating for chair parts, laminating for curved drawers, laminations, learn techniques, make patterns, making forms for bending, milling curved parts safely, new design vocabulary, parallel laminate bending, preparing materials to bend, pur sculptural curves, science of wood bending, sculptural curved components, shaping curves from solid wood, shaping wood, steam bending, tapered laminate bending, techniques, using handtools, vacuum forming, Woodworking, woodworking classes in florida, woodworking school, woodworking skills, woodworking techniques, Woodworking with a curve