Facility – Home of the Florida School of Woodwork
Our classes are held in a spacious, light-filled workshop housed in a renovated 1920's building near downtown Tampa.  The building is on the National Historic Register and has 4,000 square feet of use-able space.
Designed by experienced craftsmen, the shop is laid out to provide an ideal work area for each student, with lots of light, an amazing array of tools and a central dust collection system.  It is a place where you will have the room and equipment necessary to create any number of projects. Inspiration, experience, and instruction are supplied in abundance.
Each student is assigned their own work area atop the specially designed suspended floor. The 'sprung' floor is more comfortable than standing on concrete and allows you to focus on the instructor and your project.
The school also contains a small conference room, kitchen facilities and bathrooms. Our space is wheelchair accessible.
Our location is just north of downtown Tampa and is convenient to many area hotels, attractions and beaches. 
"This is an amazing workshop for a woodworker, a really great place to learn with a great selection of equipment and well thought out professional and entry level tools to try out.  It is clean, well designed but most of all it just feels good to be there, its a perfect craftmans paradise". Chad O.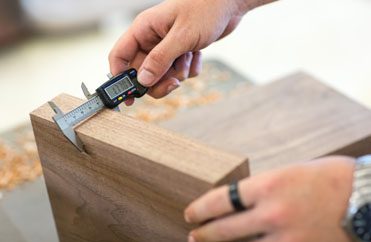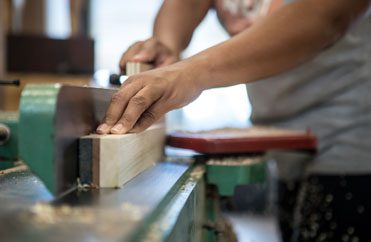 There is an extensive selection of power tools and hand tools available in the workshop. Each piece of equipment is well-maintained and highly tuned for safe use. The tool selection ranges from high end professional grade to small shop grade allowing you to experience and assess the sorts of tools you might want to use in your own workshop.
Some of the tools and machinery that you will find in the shop include*:
2 Sawstop Table saws,
20″ Minimax bandsaw, 14″ Grizzly bandsaw
20″ Powermatic planner, 13" Dewalt bench top planner
14″ Jointer Minimax, 8″ Grizzy jointer, 6" Ryobi jointers
20" Dewalt Scroll Saw
Incra mitre jigs
Oscillating spindle sander, Belt Sander
Multiple Festool dust collection and sanders (ROS, OSS)
Dewalt sliding compound mitre saw
Hand Planes, various plunge routers
Bessey clamps – lots of them
Vacumm press
Drill Press
Lathe
*Not a complete list of our equipment