Dutch Tool Chest | Megan Fitzpatrick
Oct 10, 2022 - Oct 14, 2022 | 9:00 - 5:00
$875.00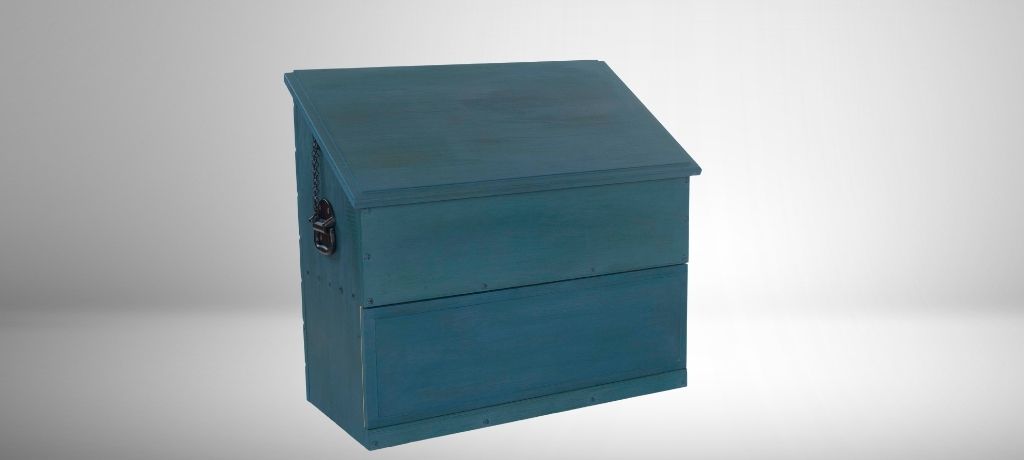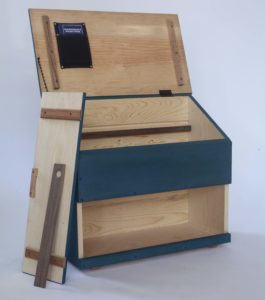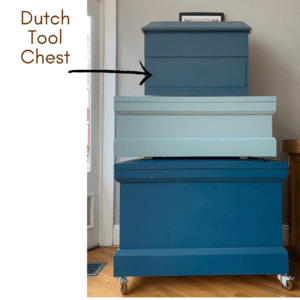 I'm a fan of a full-sized tool English chest – but they aren't easily portable. So on the road,  I use a smaller, and more portable Dutch Tool Chest (like the one that appeared years ago in Jim Tolpin's "The Toolbox Book") for ferrying my tools hither and yon.
Bonus: The slanted lid tucks nicely into most hatchbacks!
It's also a great choice in the shop for protecting your tools and holds the hand tools you need to make most furniture forms (OK…there's not room for a whole set of moulding planes…but _almost_ everything!)
With dovetails only at the bottom, this chest is fairly simple to make – the carcase goes together in two (long) days. But we're going to dress it up both for good looks and longevity by making a raised-panel top with a hand-tool-cut fingernail moulding, as well as a hand-raised panel on the fall front, and a hand-cut tongue-and-groove back.
In this extended class, we will be able to do some additional work that will complete the chest inside and out:
Interior Build Out:
We will kit out the interior to store chisels, saws, planes, layout tools, and more – all the core furniture-making tools.
Note that this class includes a pocket provided by Texas Heritage and the "Woodworkers Pocket book" from Lost Art Press.
Exterior Finish:
We'll use milk paint to add colour to the outside – you'll get to choose your own colour.  This will give us a great opportunity to talk about milk paint as a product and how to use it in different scenarios (like chairs)
Finally, we'll install the hinges and lifts (see the tool list – there are several styles from which to pick).
When you leave this class, you'll be able to do so in style, with all your tools safely stored in your new chest.
And the hand-tool skills that you learn – dovetails, dados, rabbets, cut-nail joinery, mouldings (along with rules for carcase construction) – will serve you well for all your projects to come.
Tools:  CLICK HERE
Please note that Lee Valley provides a 15% discount on many items for students of this class.  Once registered you can request the educational discount form from [email protected]
Fees:
Tuition: $875 per person (includes materials)
One time registration fee of $45
Details
Start:

Oct 10, 2022 @ 9:00 am

End:

Oct 14, 2022 @ 5:00 pm

Cost:

$875.00

Event Categories:

2022 Classes, All, Case & Cabinets, Certificate Joinery, Furniture Making, handtool, In Person, Joinery, Level I, Level II, Level III, Project Based

Event Tags:

18th century chairs, american furniture, Beginning, chair, chair joinery, chair making, chairmaking, chisel, chris schwarz, christopher williams, combination squares, comfortable stick armchair, cut joints, cut wood accurately, furniture, furniture making, greenwood, hand planer, Hand planing lumber, Hand Tools, handsaw, handtools, john brown, joinery #, joinery class, joint selection, lap joints, layout skills, learn, lost art press, machine based methods, marking gauges, mitres, Mortise and tenons, planer, rabbets, richard bebb, saw, select joints, sharpening chisels, sharpening hand planes, shavehorses, shooting board, skill-based class, steam boxes, Table Joinery, through dovetails, typical woodworker, welsh staked, welsh tradition, wood behavior, Woodworking, woodworking classes, woodworking projects