Registration & Payment Information
Online:
Click on the class from the menu. Click "Register for This Class" at the bottom of the page.
By Mail:
Send this completed form, registration fee, and tuition deposit.
Attn: Class Registration
Florida School of Woodwork
1609 N. Franklin Street
Tampa, FL 33602
Payment Plan:
If you need a little more time to pay we offer a payment plan where the cost of the class is broken down into monthly installments.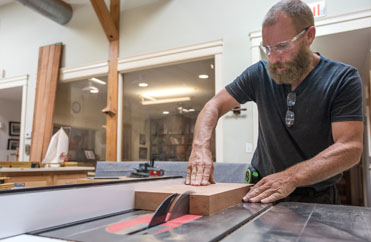 Refund and Cancellation Policy:
To be eligible for any refund, you must send a dated written request. All refunds based on postdate.
Email and telephone cancellations will not be accepted for refunds.
There will be an automatic $45 cancellation fee (per class) for any canceled registration, regardless of the date of withdrawal. Private classes will incur a $45 per reserved hour cancellation fee for any cancellation with less than three business days notice.
If you withdraw from a workshop more than 30 days in advance, the school will refund the deposit on the class, less the $45 cancellation fee and $45 nonrefundable registration fee.
If you withdraw from a workshop more than 30 days in advance and you are using the installment payment plan, the school will refund any money less the amount of the first payment and the $45 non refundable registration fee.
If you withdraw within 30 days of the class, there will be no refund or transferring of the money to another class on all paid money for any reason.
If you cancel any class and are eligible for a refund, the available refundable money can be applied to another class in the same year (less the $50 cancellation fee). You cannot transfer money to another class in the next year's schedule.
Refundable money will be sent back before the end of the school year.
If for any reason FSFW must cancel a workshop, all money will be refunded, including the $45 registration fee.
In the unusual event that The Florida School of Woodwork must cancel a course, deposits and fees will be promptly refunded.