Heirloom Desk | Nancy Hiller
October 5 - October 10 | 9:00 am - 5:00 pm
$1075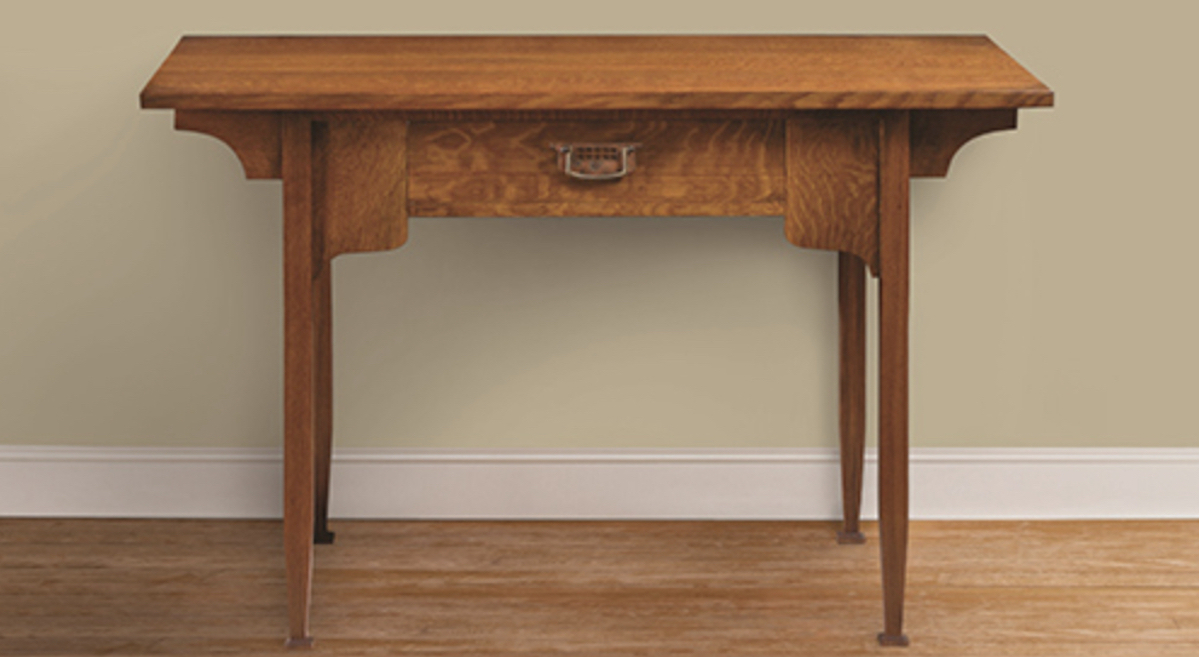 Make Your Heirloom
Desk
A great desk stands the test of time and in this class there is plenty of opportunity for variations that suit your style in this desk making class with renown furniture maker Nancy Hiller.   
Your Desk/Your Style
You might like a more contemporary style, or a mid-century modern, or even a clean-lined shaker style?  
We will keep the overall dimensions and incorporate a single drawer,  but most of the other elements can be modified.  We will work with you on your design prior to the class so that you arrive prepared to make.
You can of course make the classic Arts and Craft style desk shown if you wish, but there is plenty of stylistic flexibility in this class.
For example – you get to choose the wood species so that the piece will  fit perfectly into your home.  Choose from:
Oak (traditional),

Walnut (handsome and bold),

Maple (lighter more contemporary twist),

Sapele (Ribbon Mahogany – mellow and harmonious)

Cherry (warm and rich
You can make this for you or as a gift for a loved one.
What You Will Learn
You will learn both traditional joinery and modern-day building techniques and make a piece that lasts for generations.   
It is a great project to get your teeth into after taking a Beginner Woodworking, Handtool and/or Table Making class.  It's really going to help bring everything you've learned together in a single project.
The techniques you'll learn will form a solid foundation for a variety of furniture –tables, chests of drawers, and more–using a mix of machine and hand-cut joinery.
Some of the key learning points include:
dovetail joinery

arts and craft details where appropriate.

internal drawer structures

wood selection

hand and machinery use
Please note that as with any week-long project class, you might need to do some final assembly at home depending on your progress in the class.  Rest assured, we will cover all of the techniques you'll need.
Want To Ship It Home?
We've got you covered!  The School can also provide you with a shipping quote should you choose to assemble your piece. Alternatively, if you are flying in, work can be shipped home, unassembled using a large flat box (ie, bicycle box) and checked as an extra bag.
The class is a combination of 5 days of instruction with an optional 6th day for final touches on Saturday.
Materials & Books Needed:
Materials Needed: Pull for the drawer
Fees:
Tuition: $825 per person
Studio & Materials Fee: $250
One time registration fee of $45
Details
Start:

October 5 @ 9:00 am

End:

October 10 @ 5:00 pm

Cost:

$1075

Event Categories:

2020 Classes, All, Desk Making, Furniture Making, handtool, Joinery, Level I, Level II, Level III, Project Based, Table Making

Event Tags:

a materials list, air dried wood, arts and craft, arts and craft details, bedroom furniture, Beginning, beginning woodworking, bridle joint, brown glue, build a table, build an elegant table, carpentry, carpentry furniture, chair dimensions, cherry, chisel, chopping board, Class 5 Day Class, combination squares, construction drawings, contemporary heirloom desk, crafts, crosscut, curved aprons, custom furniture, custom woodworking, cut list, cutting board, cutting diagram, cutting joints, dado, design a table, design formulas, desk, diy, dovetail joinery, drill press, edge grain, english desk, face sawn wood, festool sanders, fibonacci series, final cut list, florida, florida woodworking, forstner bit, foundational woodworking, foundational woodworking skills, front elevation construction drawing, furniture, furniture construction drawings, furniture cut list, furniture design, furniture function, furniture glue, furniture making, furniture making skills, gifts for woodworkers, glue set times, grain direction, great instructors, green wood, hand and machinery use, hand planer, Hand Tools, hands on class, hardwood, harris lebus furniture, heartwood, heirloom, Heirloom desk, hiller, How to Calculate how much wood you need for a project, how to design furniture, how to do joinery, how to make a cut list, how to mill lumber, how to sand wood, how to select a finish, how to use hand tools, how to use lumber, how to use power tools, how wood is cut, improve your skills, internal drawer structures, jig, jointer, joints, joints for furniture, kiln dried wood, lacquer, layout skills, learn a new hobby, learn how to build an heirloom desk, learn new skills, living room furniture, lumber, lumber yard cut list, mahogany, manipulation of wood, maple, maximum no sag spans for shelves, mid century modern heirloom desk, mill lumber, milling, milling raw lumber, mixing of traditional styles with modern efficiency, modern furniture, moisture content, mortise, Mortise and tenons, new hobby, oil finishes, perfect for beginners, pine wood, places to buy wood, Plain Sawn Lumber, plain sawn wood, plan elevation construction drawing, planer, poplar, power tool, Power Tools, projects, Quarter Sawn Lumber, quarter sawn wood, raw lumber, resaw cut, Rift Sawn Lumber, rift sawn wood, ring turned feet, rip cut, rough cut, rough sawn, router, safe power tool use, sanding, sap, sepele, shellac, soft wood, splinter wood, standard chair dimensions, standard dimensions for bookcases, standard dimensions for shelves, standard furniture dimensions, table apron, table construction, table dimensions, table joints, table making, table router, table saw, table top, tampa, the golden rule, thickness planer, timber, tools, traditional joinery, varnish blend finishes, walnut, wax finishes, wood density, wood finish, wood grain, wood moisture content, wood properties, wood selection, Woodworking, woodworking education, woodworking glue, woodworking machinery, woodworking school, yellow glue