Turning is the Perfect Woodworking Hobby [for the Suburbs]
And just maybe for you, no matter where you live!
Visiting the Florida School of Woodwork has to give you an appreciation of what a commitment woodworking as a hobby or a side business really is.
The School is in this huge art deco building, very open, with big picture windows in front and some pretty high-end woodworking power tools. Tools that take up a lot of space.
Because it's a school it does have to have multiples of everything, but still. Woodworking power tools take up space, especially when you move from the 3 times a year woodworking or furniture project to the my-husband/wife-will-kill-me-if-I-spend-another-day-in-the-shop stage.
If furniture making is your passion you're going to need a good:
Table saw and/or band saw
Planer
Jointer
Router table
In addition to a few worktables – size depending on how big you're going to build.
You'll also need storage for all the clamps, chisels, drills, sanders and the never-ending list of small items you can't do without.
That's your garage right there.
Realistically, nobody that does Turning has a lathe as their only woodworking tool.
But if Turning is your focus that could end up being your only woodworking POWER tool. Or at least the only one that doesn't fit in a drawer.
What is Turning?
Turning is a "branch" or part of woodworking and furniture making. It's typically associated with making rounded legs for a table or spindles for a staircase for example. (You can get the basic definition on Wikipedia here).
The primary tool is called a Lathe. A lathe holds a piece of wood , then spins the piece – usually a block – at high speed.
While the block of wood is spinning you hold a chisel onto the wood and it shears off what you don't want, leaving your designed woodwork as the end result.
That's a really simple explanation, but fundamentally accurate.
You can think of it like throwing clay for pottery. The wheel spins the unformed clay and you use your hands to make the shape. Same difference.
Turning, or using a Lathe, Is So Much More Convenient
Notice there was no mention of a table saw, planar, jointer, or router table? No bandsaw, no fill-in-the-blank other woodworking tool?
The Lathe is your primary and usually your ONLY big tool you own if you're a turner hobbyist.
A good quality starter Lathe like the one from Woodcraft in the picture below measures: 33-3/5 L x 11 W x 17-7/10 H.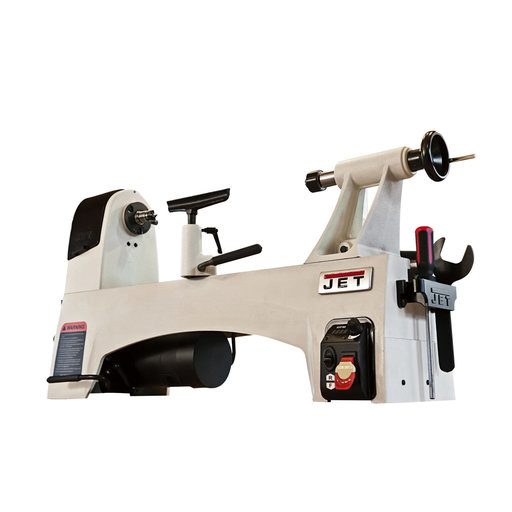 That's 3' x 1' of floor space or table space. It's ONE plug.
And you can create so many different things when you learn to turn!
We've had students produce some amazing things.
Our Lathe to Table courses take complete beginners and teach them to make a bowl, spoon and cup.
Weekend and day classes have us paired up with local breweries to make beer cups and mead goblets.
That's just the beginning classes! You're only limited by your creativity when you're turning..
But you're not limited by the SPACE you have available!
What can you make Turning?
Okay, here is just a SHORT list of projects you can create with a lathe and some education in how to do wood turning:
Cup
Mug
Christmas ornament
Bangles
Earrings
Table legs
Stair spindles
Pens
Rolling pins
Salt and Pepper shakers
Rings
Bowls
Vases
Birdhouses
And more…
Want to look into turning your Turning into a side gig? Bring in a few extra dollars to support your woodworking habit? There are tons of Turners selling some pretty inventive things on Etsy and other platforms. You could be one!
Turning and the Suburban Woodworker
Turning may not be perfect for everyone, but it does offer a great option for someone that wants to create, become a woodworker, do something with their hands – but has limited space.
Of course, taking a Beginning Woodworking or Turning Class is a great way to get started. Or even to see if turning might be the creative outlet you're looking for.
Visit https://schoolofwoodwork.com, check out the class schedule see what makes sense.