Intro To Cabinet Making Ellen Kaspern
Aug 8, 2022 - Aug 12, 2022 | 9:00 - 4:00
$860.00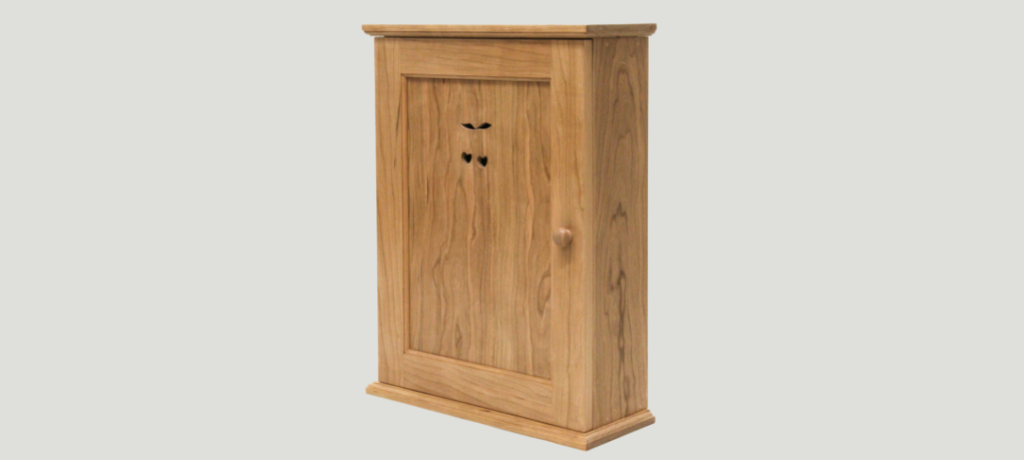 Case Making for Beginners
This foundation woodworking class will teach you how to build basic cabinets using both power tools and hand tools. This course is perfect for beginners or for intermediates who want to hone their skills. Everything you will need is here in the workshop along with a really knowledgeable, patient instructor who will show you safe methods of work.  
Learning by doing helps to really support understanding so this class is going to be very hands-on.
The project is a small wall-mounted case piece.  We'll cover a lot of ground.  You will learn how to:
use both plywood and solid wood and understand their qualities
create frame and panel doors
use the table saw, bandsaw and router
select and install euro hinges and butt hinges
select and install different kinds of shelves
You will be able to use all of these cabinet-making techniques to build kitchen cabinets or built-in cases.
Lastly, we go over adding additional details and finishing touches to give the cabinets a professional look and make them stand out.
If you have prior experience this class will help you refresh and refine your cabinet-making skills but this is also for beginners.
Tools Needed:  NONE
Materials Needed:  NONE
Fees: 
Tuition: $805 per person
Studio & Materials Fee: $55
One time registration Fee: $45
Details
Start:

Aug 8, 2022 @ 9:00 am

End:

Aug 12, 2022 @ 4:00 pm

Cost:

$860.00

Event Categories:

2022 Classes, All, Beginning Woodworking, Case & Cabinets, Certificate Beginning Woodwork, Certificate Case, Furniture Making, In Person, Level I, Project Based

Event Tags:

5 Day Class, air dried wood, bedroom furniture, Beginning, beginning woodworking, brown glue, build a table, build an elegant table, carpentry, carpentry furniture, chair dimensions, cherry, chopping board, class, Class 5 Day Class, construction drawings, crosscut, custom furniture, custom woodworking, cut list, cutting board, cutting diagram, cutting joints, dado, design a table, design formulas, diy, drill press, edge grain, face sawn wood, festool sanders, fibonacci series, final cut list, florida, florida woodworking, forstner bit, foundational woodworking, front elevation construction drawing, furniture, furniture construction drawings, furniture cut list, furniture design, furniture function, furniture glue, furniture making, furniture making skills, gifts for woodworkers, glue set times, grain direction, great instructors, green wood, Hand Tools, hands on class, hardwood, heartwood, How to Calculate how much wood you need for a project, how to design furniture, how to do joinery, how to make a cut list, how to mill lumber, how to sand wood, how to select a finish, how to use hand tools, how to use lumber, how to use power tools, how wood is cut, improve your skills, jig, jointer, joints, joints for furniture, kiln dried wood, lacquer, laumber, learn new skills, living room furniture, lumber, lumber yard cut list, mahogany, manipulation of wood, maple, materials list, maximum no sag spans for shelves, mill lumber, milling, milling raw lumber, modern furniture, moisture content, mortise, oil finishes, perfect for beginners, pine wood, places to buy wood, Plain Sawn Lumber, plain sawn wood, plan elevation construction drawing, planer, poplar, power tool, Power Tools, projects, Quarter Sawn Lumber, quarter sawn wood, raw lumber, resaw cut, Rift Sawn Lumber, rift sawn wood, rip cut, rough cut, rough sawn, router, safe power tool use, sanding, sap, sepele, shellac, soft wood, splinter wood, standard chair dimensions, standard dimensions for bookcases, standard dimensions for shelves, standard furniture dimensions, table apron, table construction, table dimensions, table joints, table making, table router, table saw, table top, tampa, the golden rule, thickness planer, timber, tools, varnish blend finishes, walnut, wax finishes, wood density, wood finish, wood grain, wood moisture content, wood properties, wood selection, woodworkin, Woodworking, woodworking education, woodworking glue, woodworking machinery, woodworking school, yellow glue