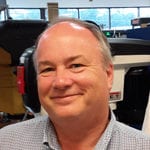 Joe Kunzman
Joe currently serves as the president of the Florida Chapter of the Society of American Furniture Makers and president of the Central Florida Woodworkers Guild in Orlando.  He frequently gives woodworking presentations at both organizations.  His other interests include electronic circuit design with microprocessors and photography.   He was a former vice president and instructor of the Cleveland Photographic Society.   He taught B&W and color darkroom techniques and digital processing utilizing various software titles including Photoshop.
Joe is recently retired and now devotes most of his time to woodworking.   In his professional career he was a Certified Public Accountant (don't worry he's a nice guy with a sense of humor) and a Senior Data Storage Architect specializing in data virtualization, fibre channel networking, and data replication/migration.
He lives in Lake Helen, FL with his wife Marie who he met in high school.   On the property is a large shop which hosts several club woodworking events throughout the year.