Joinery & Handtools – Weekend
May 8, 2021 - May 9, 2021 | 9:00 - 4:00
$460.00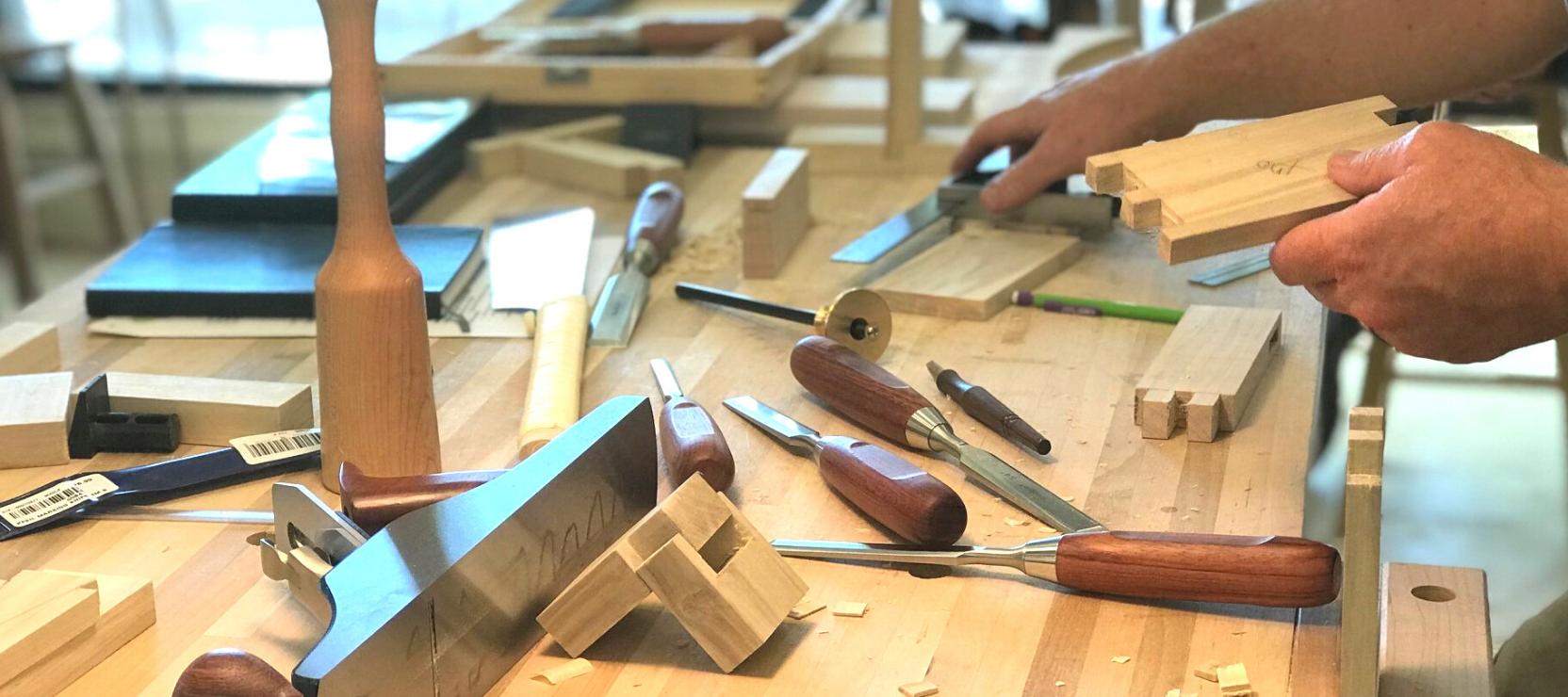 MEET YOUR INSTRUCTOR
ANDREW GIBSON
Precision Joinery
Weekend Workshop
Come and spend a weekend learning how to cut the most precision joints with care and craft. 
Do you want to hone your hand tool joinery skills and improve  your overall woodworking and furniture making?
Everything you will need is here in the workshop along with a really knowledgeable, patient instructor who will show you step by step how to accomplish beautiful work.  Feel free to bring your own tools.  You'll have your own custom woodworking bench by Benchcrafted to work from, along with a curated tool kit for the perfect tools for the class.
Learn How to Use Handtools
Mastering the mechanics of using handtools will make your joinery go more smoothly, so not only you will spend time understanding what sharp means, precision layout, selecting the right tool for the job and the sequence of cutting, but learning how to place, and move each tool with the correct ergonomics.  You will learn to layout and cut several joints – lap, mitres, mortise & tenon, dovetails with control and consistency.
Some of key learning points you'll cover include:
Understanding sharpening
Laying out joinery
Using a shooting board & hand plane
Cutting dovetails, Mortise & Tennon
How to use chisels, combination squares and marking gauges
Tools/Materials You Need To Bring: None
Materials:  Provided 
Fees: 
Tuition: $460 per person
Studio & Materials Fee:  Included in cost of class
One time registration Fee: $45
Details
Start:

May 8, 2021 @ 9:00 am

End:

May 9, 2021 @ 4:00 pm

Cost:

$460.00

Event Categories:

2 Day, 2021 Classes, All, Furniture Making, handtool, In Person, Joinery, Level I, Level II, Weekend

Event Tags:

american furniture, andrew gibson, box joints, Cabinet Joinery, carpentry, carpentry furniture, chair joinery, chisel, combination squares, crafts, cut joints, cut wood accurately, cutting dovetail joints, dovetail, fix joinery mistakes, Frame Joinery, furniture, furniture making, furniture making skills, gifts for woodworkers, great instructors, half-blind dovetails, hand planer, Hand planing lumber, Hand Tools, handsaw, handtools, How to assemble picture frames and mount the piece, how to cut matting, how to cut picture frame parts, How to measure, how to properly use chisels, How to route rabbets for the picture and matting, How to spline corners for strength, how to use a hand plane, how to use a handplane, How to use a shooting board, how to use chisels, How to use oil and wax finishes, how to use sharpening stones, joinery #, joinery class, joint selection, lap joints, laying out joinery, layout skills, learn, learn a new hobby, learn how to use hand tools, learn how to use handtools, learn new skills, machine based methods, marking gauges, measuring and accuracy, mitres, Mortise and tenons, new hobby, planer, Power Tools, rabbets, saw, select joints, sharpening chisels, sharpening hand planes, sharpening stones, shooting board, skill-based class, super easy, Table Joinery, through dovetails, understanding sharpening, using a shooting board, variety of joints, wood behavior, wood planer, Woodworking, woodworking classes, woodworking education, woodworking projects