Introduction To Marquetry | Frank Strazza
Oct 9, 2023 - Oct 13, 2023 | 9:00 - 5:00
$945.00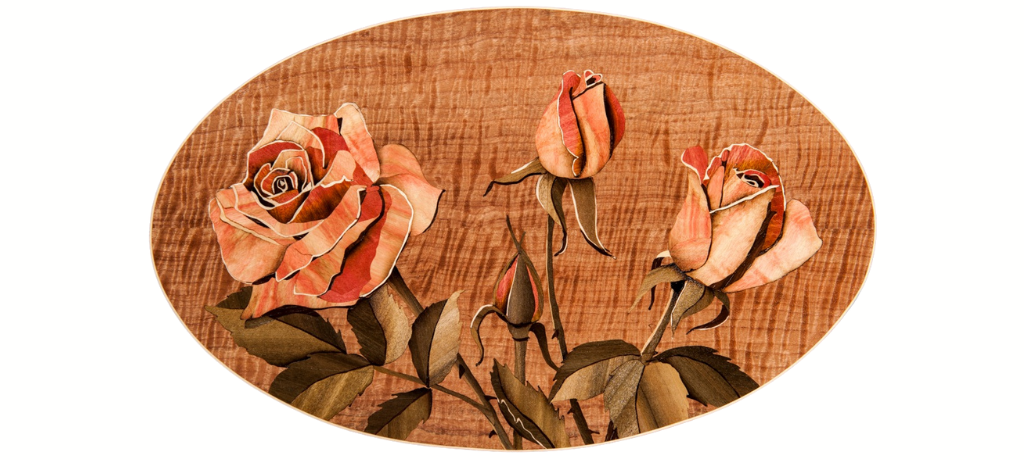 Marquetry is the art of "painting with wood", the craftsperson carefully cuts and pieces together different species of wood to create a beautiful picture, decorative element or lettering. This craft dates back to the Italian Renaissance and was traditionally used to embellish furniture, church pews, and panels in homes and palaces. This craft has evolved over the centuries, and styles and techniques have changed as it has moved across regions and countries. Frank will teach you some of his favourite techniques and methods as you discover that you, too, can create this timeless art. "
While you could use lasers and artificially coloured (dyed) veneer for creating marquetry, it lacks the essence and soul that is present in traditionally crafted work.  Learn how to use the natural hues of the wood without paint, dyes or stains to give your work a warm and inviting feel.
You will learn about the many methods used for marquetry, from packet cutting to double bevel sawing and work on a series of projects of gradually increasing complexity and sophistication as the week progresses.
You will learn how to:
saw your own veneer
create simple and beautiful inlay work with simple tools
create lettering, flowers and other decorative elements
use hot sand to make dimensional work
Don't worry if you are not  "artistic", Frank will guide you through the process, unlocking many possibilities. If you are an artist, please come prepared to think outside the box and create something amazing!
Skill Level:  This course is open to all, from absolute beginners to those who have already taken marquetry courses.  Much of the class is seated work and no heavy machining.
Class Time
Workshop Days:     Monday to Friday
Instruction Time:    9:00am – 5:00pm
School Opens:.      8:30am – 5:30pm
Tuition & Materials:
Tuition:
Materials Fee:
One-time registration fee
Details
Start:

Oct 9, 2023 @ 9:00 am

End:

Oct 13, 2023 @ 5:00 pm

Cost:

$945.00

Event Categories: