Introduction to Table Making | Mike Korsak
March 21 - March 25 | 9:00 - 5:00
$920.00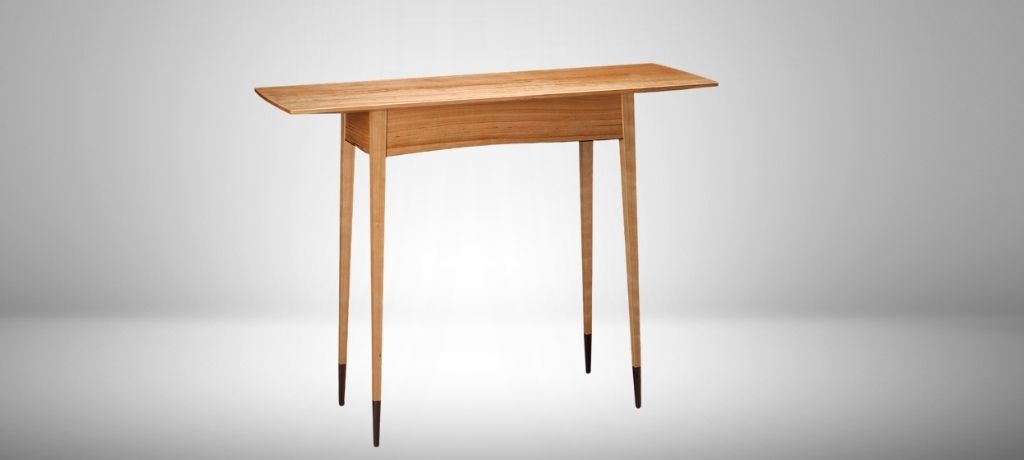 Introduction to Table Making
Build a beautiful Shaker-style console table that is packed with new techniques and skills
Small tables are wonderful skill-building projects, where new skills are acquired, and existing skills are reinforced.  Small tables also provide ample opportunity to dial up the detailing to express one's own design creativity.
In this class,  you will build a side table with tapered, splayed legs, and an under beveled tabletop.  You will also explore different ways of dressing up your table with inlay, veneer, and cock beading.
This is a hybrid class where you will use power tools for joinery and preliminary milling and shaping, and hand tools to accurately and precisely do the final shaping and surface preparation of all table parts.
There are lots of opportunities to learn new skills  in this compact project and some of the key learning points include:
Milling angled mortise and tenon joinery (nothing too complicated, but enough complication to add a challenge).
Tapering legs with a bandsaw and hand planes (no tapering jig)
Shaping the under bevels on  the tabletop with hand planes (preliminary shaping can be done with a series of table saw kerf cuts, but final shaping will be all hand tools)
Making and using shop sawn veneer for decorative effect
Working with inlay/stringing
Skill Level.  You should be slightly beyond the "Beginner" designation,  and be competent at machinery use, milling parts true (flat and square), cutting basic joinery, be able to sharpen and use basic hand tools (primarily hand planes and chisels).
We recommend that you attend the Beginning Woodwork class and the Handtools and Joinery class here at the School before tackling this project.  It's okay if you are not highly proficient with hand planes, but some basic level of use/knowledge is recommended.
Materials & Books Needed: Provided by the School
Materials:  Provided by the School
Tools:  The School has the majority of what you will need, however, there are a few items you'll need to make sure you bring click here TOOL LIST.
If you have a basic (or more) set of hand tools, we recommend you bring them if possible." If not, the School will be able to supply any tools you may need.
Books:  Completely OPTIONAL  The Handplane Book by Garrett Hack is an excellent read for anyone who wishes to shift their mindset to hand plane (and hand tools in general) use.
Fees:
Tuition: $820 per person
Studio & Materials Fee: $200
One time registration fee of $45
Details
Start:

March 21 @ 9:00 am

End:

March 25 @ 5:00 pm

Cost:

$920.00

Event Categories:

2022 Classes, All, Certificate Elective, Furniture Making, handtool, In Person, Joinery, Level II, Level III, Project Based, Table Making, Veneering

Event Tags:

accurate chair layout, american furniture, Beginning, bridle joint, careful craftsmanship, careful measurement, chair, chair joinery, chair making, chisel, chris schwarz, combination squares, contemporary morley lounge chair, coping on the table saw, cut joints, cut wood accurately, decorative veneering of the panels, design features, design something beautiful, develope woodworking skills, furniture, furniture making, hand planer, hand planes, Hand planing lumber, hand tool use, Hand Tools, handsaw, handtools, jigs for pattern routing, joinery #, joinery class, joint selection, lap joints, layout skills, learn, lost art press, lounge chair, machine based methods, mad men chair, making bridle, marking gauges, mcm chair, mid century flair, mid century modern, mitres, Mortise and tenons, pattern routing, philip morely, planer rabbets, power tool techniques, saw, select joints, sharpening chisels, sharpening hand planes, shooting board, skill-based class, spokeshaves, supremely comfortable, Table Joinery, template routing, through dovetails, traditional joinery, unique design touches, using templates, welsh staked, wood behavior, Woodworking, woodworking classes, woodworking projects