How to Design Furniture (part 1)
Learn the Basic of Furniture Design with Kelly Parker
In this 2-part article we'll explore how to design furniture from concept through to a completed prototype using a real-life *commission as an example.
This first post describes the processes of sketching and modeling.  The second part describes mocking up, making a prototype, and, finally, building the object.
I recently had a commission to design a bench for an entranceway using a tree that had been taken down from my client's property.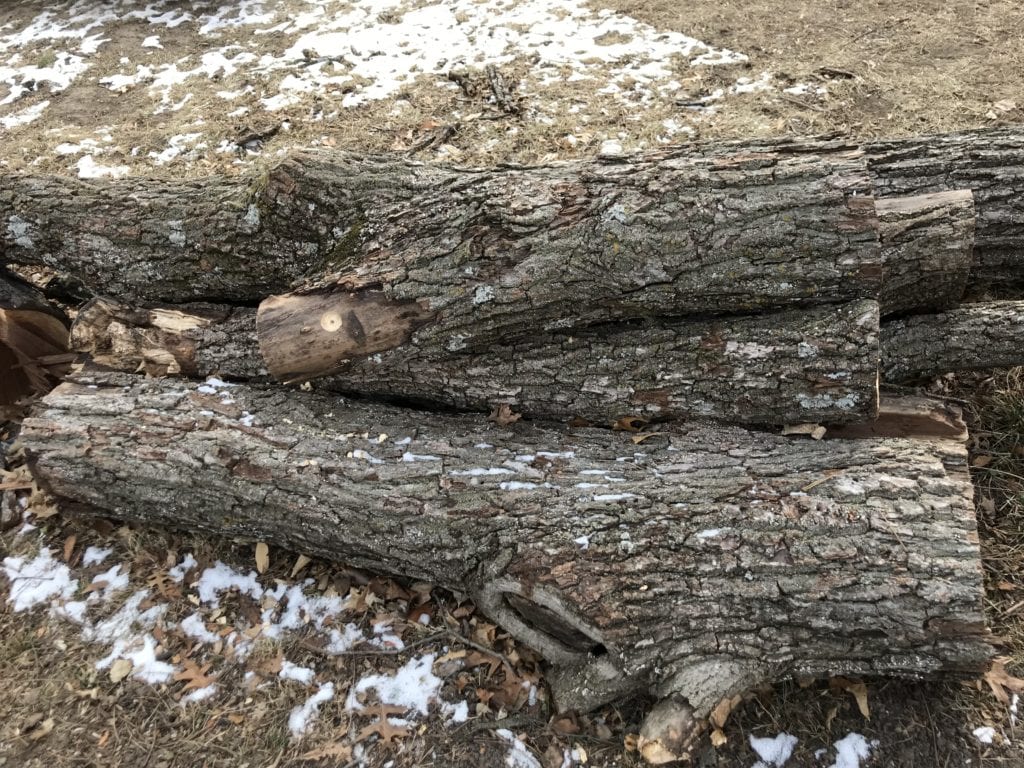 Since this tree was meaningful to her I knew I had to design a truly unique bench.
To design a bench with a big 'Wow!' factor I used a series of techniques that are guaranteed to give results. My process involves sketching, modeling, mocking up and prototyping.
Although this may sound like a lot of steps and a big time commitment for a one-off object, it is a process that keeps me from making ugly furniture that looks good in my head or on paper but falls short in real life.
How to Design Furniture: My Furniture Design process starts with sketching
I like a fat, soft, 6B pencil for this so that I can't get too caught up in the details.
After an initial sketch exploration I decided fairly quickly that I wanted the bench seat to be a series of five nested, tapered curves that got progressively shorter as they came toward the front of the bench.  Now I had to design a base to support the seat.
When designing furniture, I ask 'What if…?' a lot.
If I've sketched a design with straight legs, what does it look like with curved legs?
What if they taper toward the top? Or the bottom?
What if I convert the linear elements to planar elements?
What if the base is asymmetrical?
Do I want the piece to have a traditional feel or do I want it to be more sculptural?
I should also mention that I sketch on tracing paper.  I find this advantageous for a couple of reasons.  I often have an idea of proportions for an object so I will draw a 'bounding box' that is one-quarter of the size of my object.  Then I can overlay my tracing paper on my bounding box and draw inside of it.
Another reason to use tracing paper is that it allows you to quickly vary just one element of an object.  F
or example, I could draw the bench seat, lay tracing paper over it, then vary the legs and stretc
hers without having to draw the seat each time.
How to Design Furniture: The Next Step is Modeling Your Furniture Design Idea
Once I feel like I've exhausted my ideas on paper I move to modeling.  Modeling helps me quickly see an object in 3D and in a known scale.  I use foam core, corrugate, MDF, rigid foam, etc., to quickly make quarter-sized models.
Eighth-sized is too small to get a feel for the object and half-sized is often quite large and it starts to feel like doll furniture.  For this project I took a few of my favorite sketches and made foam core models of them.
I often generate more ideas in the modeling phase than I do when I'm sketching.  So, taken in variation, these ideas gave me about 20 options.
Again, I ask 'What if…?' Which might be the best question in 
If I've sketched legs at the corners, what does the model look like if I move them to an unexpected location, maybe just off the corners?
If they curve, should the curves face in or out?
If the curve is asymmetrical should the tighter part of the curve be at the bottom or the top?
Four legs or six legs?
If I add curved stretchers what sort of negative shapes can I generate by varying the location of the stretchers?
This all goes rather quickly as I connect everything with hot glue.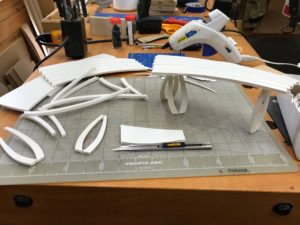 Once I decide on my next variation I dispassionately rip the model apart and hot glue it in the next configuration.  I take photographs of every design variation from the front and from the side.  Once I've exhausted my modeling ideas I can look through the photos in an objective way and choose the design that I'd like to pursue.  Plus I have 19 other designs that I can use for a future bench!
A quarter-sized foam core model of one of the 30+ ideas generated from a design exploration.
The main objective of the sketching and modeling phases is to generate a large volume of ideas. Your first idea is likely not your best idea.
The more ideas you generate the higher likelihood you will come up with a knock-it-out-of-the-park design.
How to Design Furniture: The Next Steps are…
In the next part I will describe the processes of mocking up, prototyping and building the object.https://schoolofwoodwork.com/contact-us/
Make sure you don't miss Part II of How to Design Furniture! Subscribe Here
---
Want To Learn More?
Kelly is a regular instructor at the School of Woodwork and  if you would like to learn more about design and furniture making consider attending Foundation Skills in Woodworking with Kelly Parker(Aug 2018)
*The word "commission" in this case means to be contracted to fulfill a particular furniture piece. See the Wiki definition here.
Kelly Parker Bio
Kelly Parker is a designer and maker of contemporary studio furniture and sculpture.  After graduating with a degree in Biochemistry she worked in the corporate world for 18 years before taking a rather circuitous route into art.  She has been awarded a professional development grant from the Furniture Society, was the first recipient of a professional development grant awarded by the Krenov Foundation and was recently awarded Best in Show at the biannual chair exhibition, American Craft Today: Chairs, hosted by The Bascom Gallery in North Carolina.   Her work has been featured in Fine Woodworking, Australian Wood Review, and Rooted: Creating a Sense of Place: Contemporary Studio Furniture.  Kelly's work often incorporates other materials such as metal, glass and acrylic.  She is a passionate advocate for the craft and enjoys sharing her knowledge with others.
Her work can been seen at Wood Song Studio