An Evening with Micheal Fortune & Kelly Parker
The Florida School of Woodwork offers many opportunities to meet and talk with well-respected, extremely talented woodworkers. Michael Fortune and Kelly Parker recently taught a cabinetmaking class at the school. One evening, local woodworkers had the opportunity to hear a presentation by these gifted woodworkers and chat with them.
Michael Fortune
Michael has been a designer for over 45 years after attending four years of design school. His is a contributing editor to Fine Woodworking magazine and an accomplished furniture designer that also happens to teach.
Michael talked a bit about his design philosophy, experience, and practical application when building projects in the shop. It was interesting that when he meets with a potential client at their home to discuss a custom piece, he listens to their ideas. In the meantime, he's observing his surroundings, making note of the customer's preferences in other design elements of their home from the architectural elements to the style of furniture. He then takes this information to the sketchbook. Michael prefers to hand-sketch his ideas. As a matter of fact, his sketched designs become works of art in and of themselves.
Michael says he makes it clear to his clients that he is the designer. They are hiring him for his expertise and keen eye for creating design elements that meet the practical and stylistic needs of the client. He takes no direction from his clients when he puts pencil to paper. He is still designing furniture for the homes of some of his earliest clients from decades ago.
One the design is finalized, it's time to head to the shop. Michael says the tool that gets the most use in his shop is his old, 14″ band saw. Actually, he has 8 band saws in his shop but he relies mostly on the classic 14″ saw.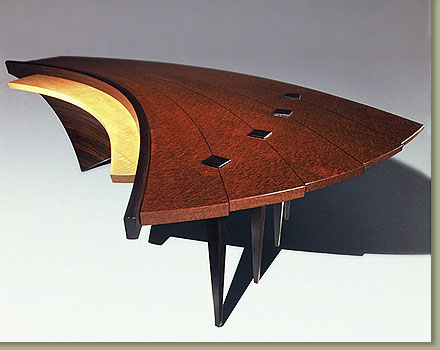 An interesting fact is that Michael has also designed some woodworking tools sold by Lee Valley. These include drawing bows for laying out arcs, steam-bending accessories, and products for creating inlays.
Michael's work can be viewed at http://www.michaelfortune.com/
Kelly Parker
Kelly's interest in woodworking began while she was in high school. During her career in the chemistry field for several years, she had always dabbled in woodworking. She finally left the corporate world to pursue her love of woodworking.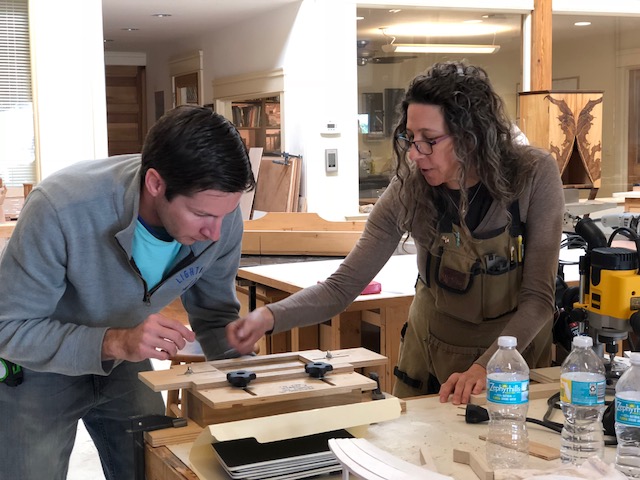 Kelly loves to incorporate a variety of materials into her pieces. She uses acrylic dowels and aluminum to highlight design elements. She chose these materials because they are easy to work with her woodworking tools.
When Kelly begins the design process, she also prefers pencil and paper. She goes to great lengths to create 1/4-scale models, mock-ups, and prototypes of her designs before committing them to wood. During this process, she is always mindful of how the piece will be constructed in the shop. This provides her the opportunity to overcome any practical challenges in building the piece. She uses donated or reclaimed wood for her prototypes.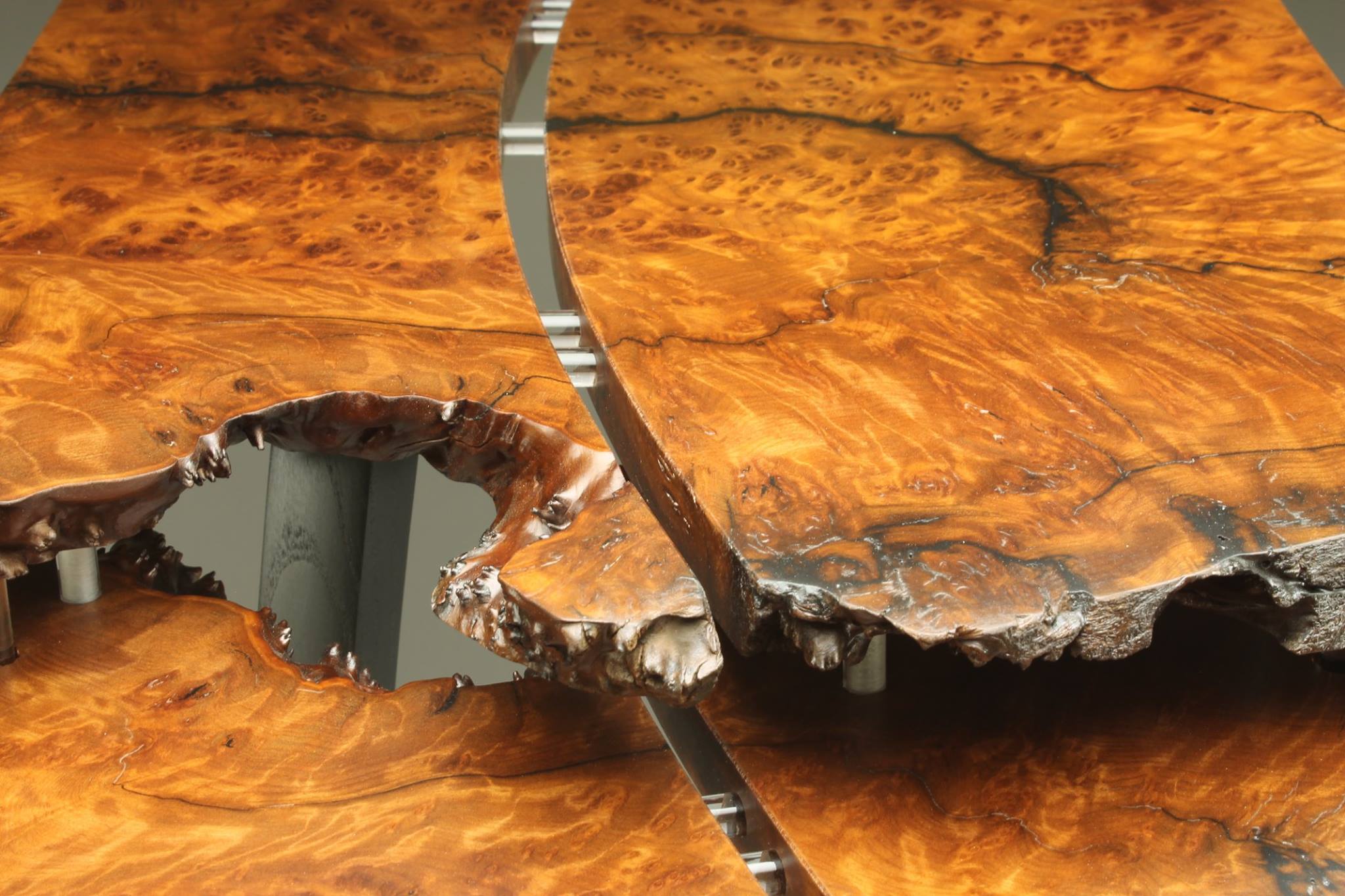 During the presentation, Kelly talked about how she ebonizes wood using a classic recipe of black tea, steel wool, and vinegar. It's one of many tricks he uses to add color and interest to his designs.
Kelly's work can be viewed at https://www.woodsongstudio.com/